Hiya guys! I have a very exciting craft related announcement for you all!!
I'm now officially on a design team for a challenge website:
Crafty Boots Challenges
, which is a brand new fortnightly challenge blog which will be starting up on September 5th!! So make sure you join in!!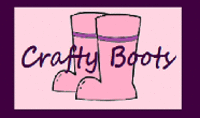 There's some great challenges lined up, as well as some prizes, so make sure you all get involved! I'm busy working away now on my DT makes to inspire you with the challenges and very excited to be working alongside some very talented crafters!!!
EEEEEEEEEEEEEEEEEEEEEEKKKKKKKKKKKK! So excited!!!
Thankyou for your support!!
Amyxx